Today's post is part of the book tour with TBR and Beyond Tour's. Six Crimson Cranes was one of my anticipated reads for the month, so I was super excited when I got the confirmation I was part of the blog tour! The book was released on July 6th, so you can get your own copy today! Today is the last day of the tour, but you can find information on the other posts on TBR and Beyond Tours' website.
I didn't have a chance to visit every stop of the blog tour but wanted to share some of my favorites:
I love A Bolt Out of the Book, and Cherelle did an amazing interview with Elizabeth Lim for her leg of the tour!
There is a great and comprehensive review on An Ode to Fiction. I haven't had a chance to listen to the whole playlist yet, but I spotted Joe Hisaishi's One Summer's Day which is perfect for the book. (The blog also has the cutest graphics 😍)
This Belle Reads Too has a gorgeous mood board that totally captures the essence of book. Also, how great is that blog name?! I'm slightly jealous.
Six Crimson Cranes, Elizabeth Lim
Genre: Young Adult Fantasy, Retellings
Length: 464 pages
Contains: banishment, burns, near death experiences, abuse, kidnapping, confinement, self-inflicted injury, violence and murder
Summary: Shiori, the only princess of Kiata, has a secret. Forbidden magic runs through her veins. Normally she conceals it well, but on the morning of her betrothal ceremony, Shiori loses control. At first, her mistake seems like a stroke of luck, forestalling the wedding she never wanted, but it also catches the attention of Raikama, her stepmother.
Raikama has dark magic of her own, and she banishes the young princess, turning her brothers into cranes, and warning Shiori that she must speak of it to no one: for with every word that escapes her lips, one of her brothers will die.
Penniless, voiceless, and alone, Shiori searches for her brothers, and, on her journey, uncovers a conspiracy to overtake the throne—a conspiracy more twisted and deceitful, more cunning and complex, than even Raikama's betrayal. Only Shiori can set the kingdom to rights, but to do so she must place her trust in the very boy she fought so hard not to marry. And she must embrace the magic she's been taught all her life to contain—no matter what it costs her.
Purchase Links:
Amazon | Barnes and Noble | Book Depository | Indie Bound | Indigo
---
I signed up to share 15 reactions while reading Six Crimson Cranes, but because I have a lot of feelings and because my brain often one giant swirling mess of thoughts (I've never related to a character more than when Lorelai gave us a glimpse of the big bag of weird in her brain,) so this you get 10 extra reactions for free. You're welcome.
PS. You can find my full review here.
---
"The bottom of the lake tasted like mud, salt, and regret. The water so thick it was agony keeping my eyes open, but thank the great gods I did. Otherwise, I would have missed the dragon.
He was smaller than I'd imagined one to be. About the size of a rowboat, with glittering ruby eyes and scales green as the purest jade. Not at all like the village-sized beasts the legends claimed dragons to be, large enough to swallow entire warships.
He swam neared until his round red eyes were so close they reflected my own.
He was watching me drown."
Mushu?!?!
Help, I pleaded. I was out of air, and I had barely a second of life before my world folded into itself.
The dragon regarded me, lifting a feathery eyebrow. For an instant, I dared hope he might help. But his tail wrapped around my neck, squeezing out the last of my breath.
And all went dark.
2. Not Mushu.
3. Also, what an opening 😱
4. Red-bean filled cookies shaped like rabbits, rice cake skewers with fresh peach or melon paste filling, sugar candies shaped like tigers and bears…I wanna eat all the food.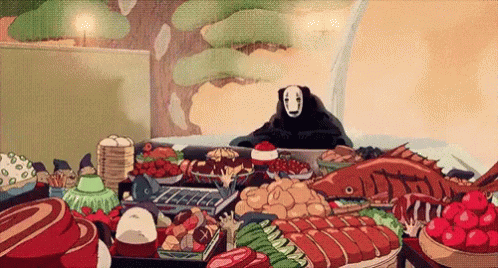 5. A wild boy has appeared! Is it already time for Spot the Love Interest?
6. These Spirited Away vibes 😍😍😍
7. Also, I know the dragon mask is blue with silver/scarlet accents, but I just keep imagining Haku. Maybe I should just rewatch Spirited Away…
8. Ooh, training montage!
9. All this talk about cranes keeps making me think of The Descendant of the Crane.
10. A garden full of snakes…fun 😰
11. Spot the Love Interest Part 2??
12. My brain is just a giant gray mass constantly making Disney references, and I am not sorry.

13. I love this family. Protect them at all costs 😭
14. Megari might be my new favorite character 😍
15. Chiruan, the gruff but kind chef is a close second.
16. SO MANY DISNEY VIBES.
17. All these food descriptions are making me hungry 😩
18. I wasn't here for the romance, but now I ship it.
19. I SHIP IT SO MUCH.
20. I wish to go to all the festivals in this book.

21. THERE ARE NOT ENOUGH PAGES LEFT FOR THIS TO END WELL.
22. Please end well. Please end well. Please end well.
23. 😭😭😭
24. I did not see that coming.
25. Is it 2022 yet?? (But also, please no love triangle.)
About the Author:
Elizabeth Lim is the author of the critically-acclaimed and bestselling The Blood of Stars duology (Spin the Dawn and Unravel the Dusk), the New York Times bestseller So This is Love, and the USA Today bestseller Reflection. Forthcoming books include the Six Crimson Cranes duology, expected summer 2021 and summer 2022, respectively.
Elizabeth grew up on a hearty staple of fairy tales, myths, and songs. Her passion for storytelling began around age 10, when she started writing fanfics for Sailor Moon, Sweet Valley, and Star Wars, and posted them online to discover, "Wow, people actually read my stuff. And that's kinda cool!" But after one of her teachers told her she had "too much voice" in her essays, Elizabeth took a break from creative writing to focus on not flunking English. Over the years, Elizabeth became a film and video game composer, and even went so far as to get a doctorate in music composition. But she always missed writing, and she turned to penning stories when she needed a breather from grad school. One day, she decided to write and finish a novel—for kicks, at first, then things became serious—and she hasn't looked back since.
Elizabeth graduated from Harvard College with an A.B. in music and a secondary in East Asian Studies, and she completed her graduate degrees (MM, DMA) at The Juilliard School. She grew up in Northern California and Tokyo, Japan, and now resides in New York with her husband and two daughters.